AN IMPORTANT NOTE ABOUT OUR FRIENDS AND NEIGHBORS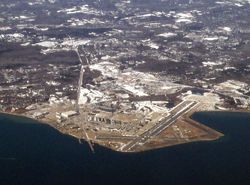 Since the site plan was drawn up, the Southeastern New England Shipbuilding Corporation (SENESCO) has negotiated a lease for acreage which includes Seaplane Hangar #1, marked on earlier versions of the plan as an element of the proposed Park.
While access to Seaplane Hangar #1 would have been desirable, it is not essential to our plan. Our architects have since drawn up six alternative configurations for the construction of a new hangar. Alternative sites include:
Ramp to the east of the Quonset Air Museum
Area south of Runway 5-23, north of the power plant
Land just outside of the Runway 5-23 clear zone, southeast of Seaplane Hangar #1, subject to negotiation with SENESCO
We also recognize the existence of aquaculture projects within the proposed site, and would embrace them as part of the technology center within the "Air, Land & Sea" concept. Discussions have already begun with representatives of the University of Rhode Island to see how these and other marine science projects could best be integrated into the project.
American Shipyard, currently in possession of one-half of the carrier pier, could benefit significantly from this proposal. Instead of the uncertainty of year-to-year contracts maintaining small government vessels, those workers could gain job security through a long-term contract to maintain the carrier.
Assuming we are successful in negotiating the use of the carrier pier, we will work with our neighbors to maximize the mutual benefits development of this Park would generate.